Still have a few holes in your Easter Baskets? We've cherry-picked a handful of the perfect includes to make anyone hop for joy!
Grab everything you need to fill up your basket - all in one place!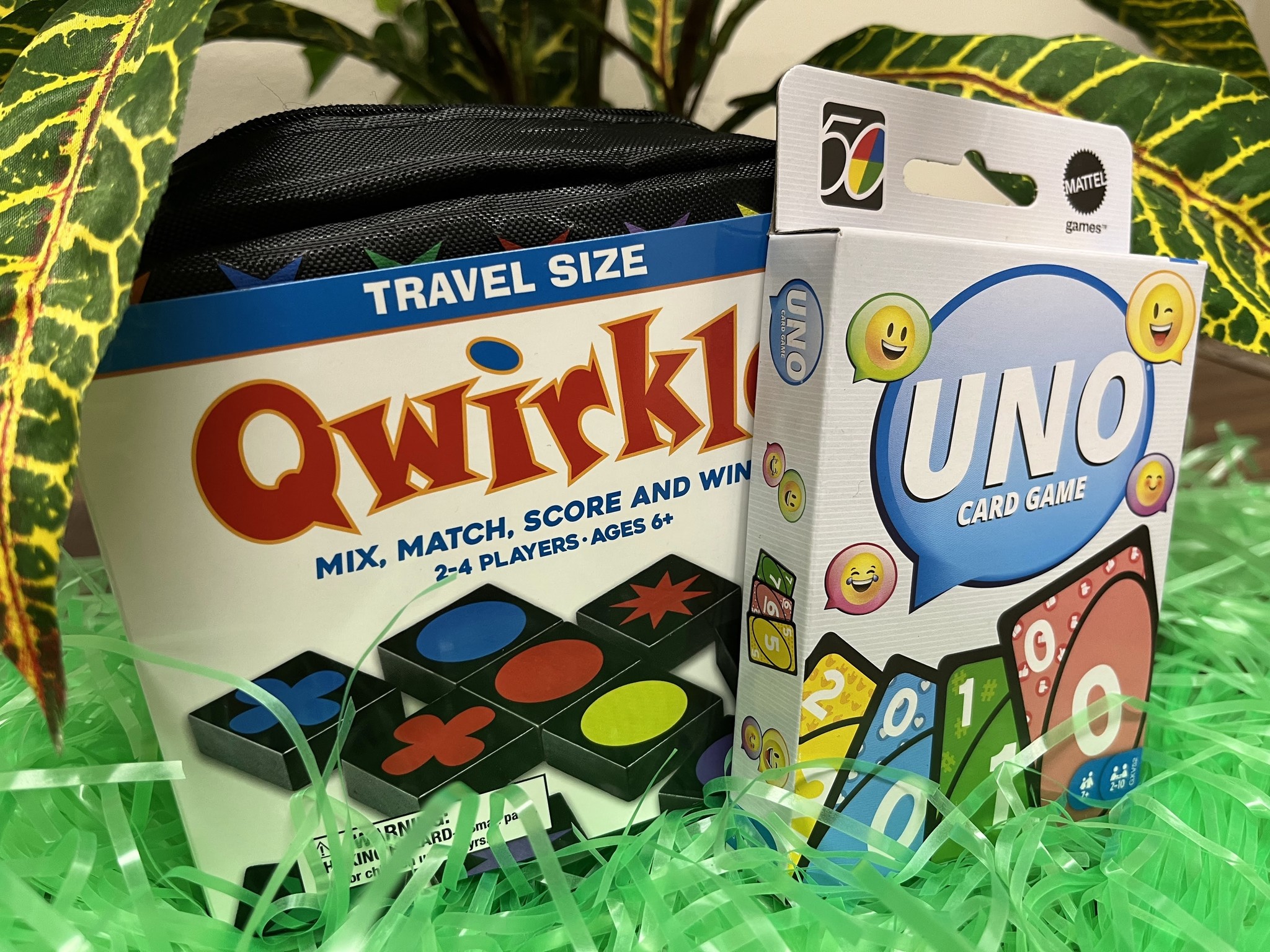 Classic Games
Uno just hit 50 years old, and as part of that milestone, they have released a variety of new versions. Here, we are showing off the 2010's Uno, the last in their 5 decades collection.
Qwirkle is one of our favorite games for all audiences. In a combination of dominoes and crossword puzzles, players try to complete "Qwirkles" by laying tiles down in a row or column of the same color or the same shape. This travel version fits nicely in our Easter Basket!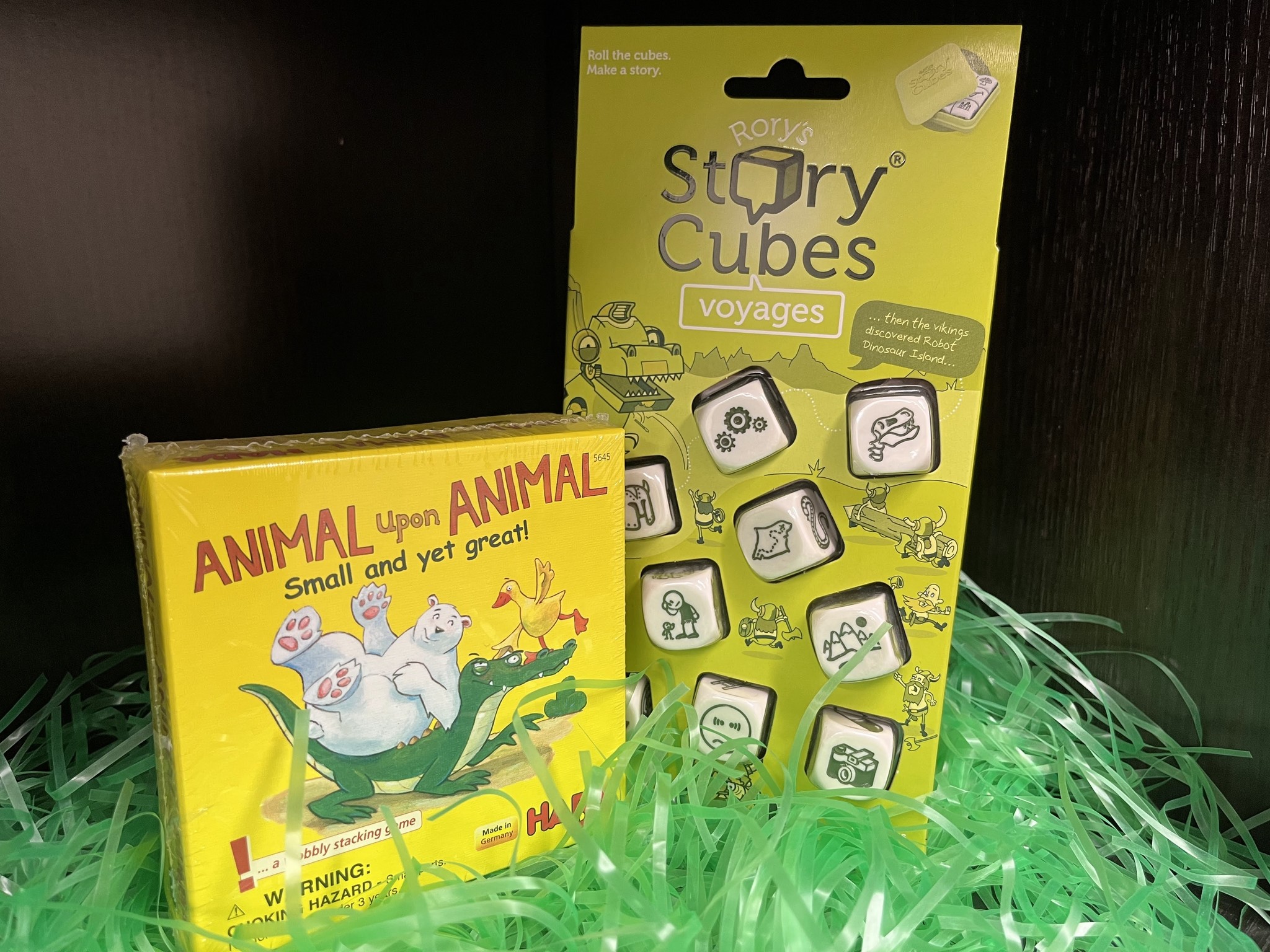 Fun for the Little Ones
Rory's Story Cubes is an awesome activity that encourages creativity above all else. Roll the dice and incorporate the symbols as you continue the story the group is telling. Great for travel!
Animal Upon Animal is one of our top recommendations for kids of all ages. It's simple enough to play - simply try to stack all your colorful, wooden animal pieces in the center of the table without knocking them down. And the Small and Yet Great version is a perfect Easter Basket include!
Dice Galore
Surprise the Dungeons & Dragons player in your life with a Mystery Gift! These festive sets of dice were a big hit at Christmas and many folks will be happy to see them back in stock.
We also just got a huge restock of dice from Foam Brain Games, known for making translucent dice with objects inside of them. These have been some of our bestsellers this winter - and you can see why!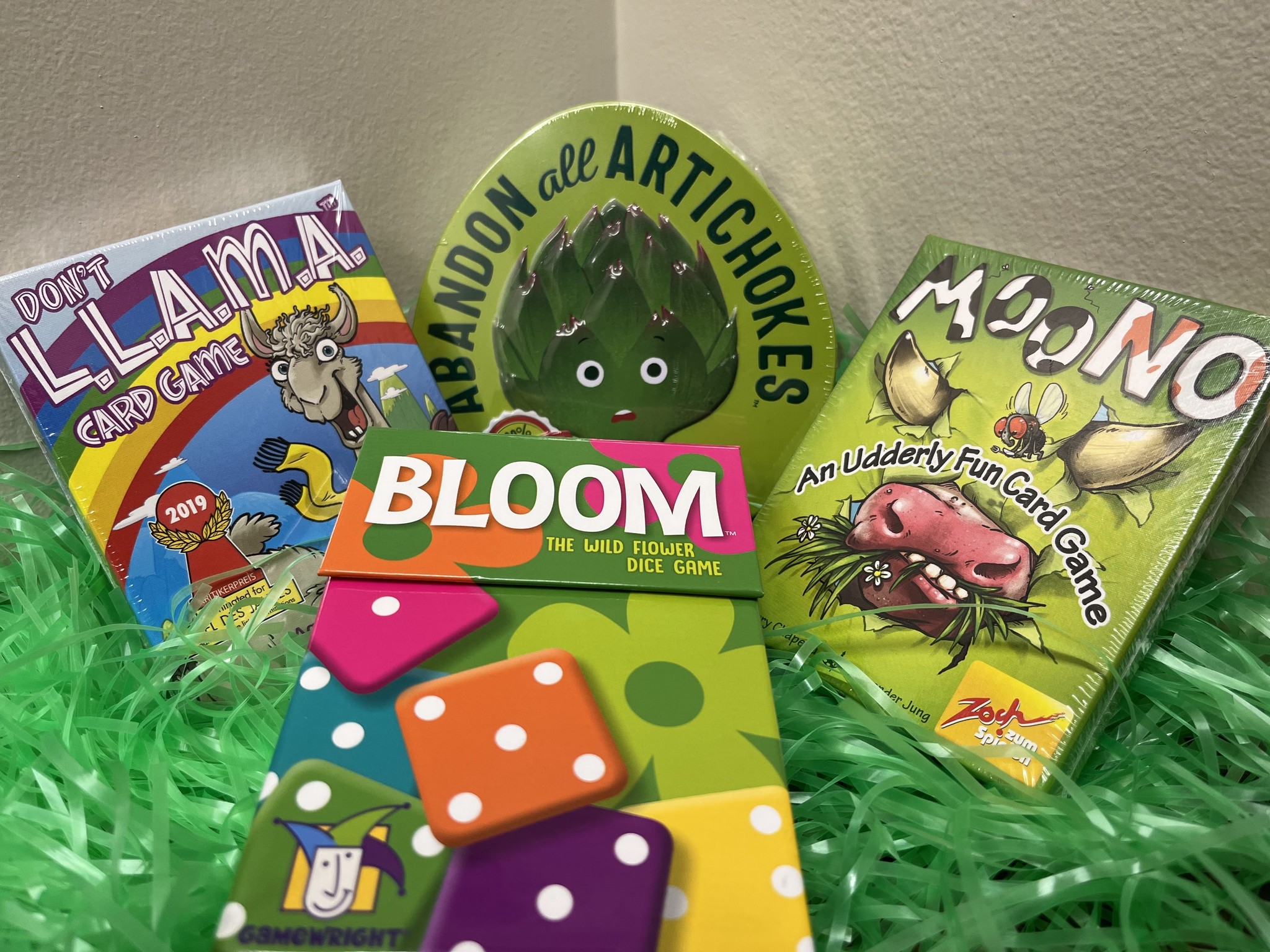 Springtime Festivities
It doesn't get much more Springtime-y than Bloom. Think Yahtzee, but with a vibrant twist: you'll roll colorful dice and choose one to use. Circle the matching-color flowers on your score pad and try to circle all the flowers in a "flower box" or all the flowers of one color. Tally up the points at the end to determine the winner!
Moono is a silly game where everyone is laying down cow cards as the perfect place for Moono the Fly to land. Orientation is everything - you'll only be able to lay down cows facing certain directions. The first person to play all of their cow cards wins! Oh, and don't forget to MOO when you get down to one card left!
Abandon All Artichokes is a quick-yet-strategic card game where each player is trying to get rid of the artichokes (artichokes?! gross!) from their deck. You'll be adding other vegetable cards to your deck each turn, and playing those other veggies will let you remove those artichokes. The first person to Abandon All Artichokes is the winner!
And of course, what is Easter without…Llamas! In Llama, players lay cards, push their luck, and try to finish with the fewest markers at the end of the game. Like Uno, you'll play an eligible card onto the pile, but if you can't, you'll gain a marker for every card in your hand. However, you can choose to take a risk and draw cards to see if you can find something to play. If you don't find something to play, you've just earned yourself more markers! This is a fun, lightweight card game with just a few more choices than a game like Uno to keep it interesting.