Wizkids Frameworks, the new line of unassembled D&D miniatures, seeks to offer highly detailed models at an affordable price. Do they succeed?
Wizkids is the king of making unpainted models for Dungeons and Dragons with their ubiquitous Nulzur's Marvelous Miniatures line. The models are pre-assembled and extremely affordable, meaning that players and dungeon masters alike have access to whatever miniatures they might need for their D&D games. Those models aren't perfect, however, especially when it comes to detail. But it's a huge step up in price and modeler skill to use high-end fantasy models from Citadel. The D&D model dilemma.
Enter Frameworks, the new line of unassembled D&D miniatures from Wizkids. Is it possible to deliver a highly detailed miniature at an affordable price? That's what Frameworks aims to do. Does it succeed?
While D&D miniatures up to this point have been a great entry into miniatures as a hobby, being very affordable, they are a bit lacking in detail and quality. The soft plastic used in Nolzur's miniatures is only able to hold so much detail from the mold, which for larger miniatures is fine most of the time, but when it comes to smaller miniatures, the facial features can be lost, and the skinny appendages like weapons can come out misshapen or very bulky. 
Frameworks models are made of hard plastic, not the soft squishy stuff, and come on a spru - a plastic frame that comes as a byproduct of the casting process. The miniature comes in multiple small pieces, which need to be clipped off of the spru and assembled with glue. In my mind, these absolutely need to be able to be assembled by a novice, as they are likely to be used by D&D players with little modeling experience.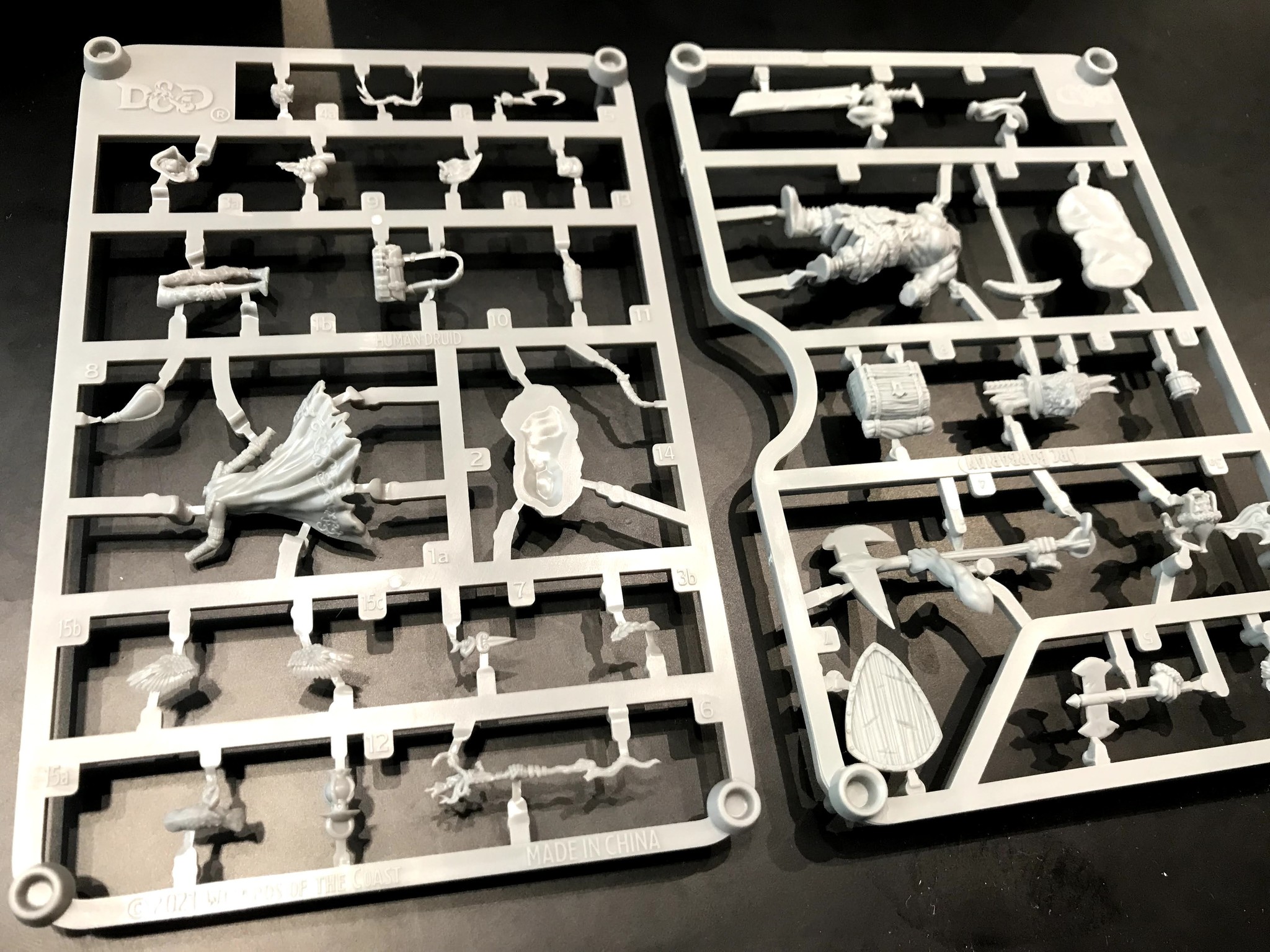 My first impression pulling the spru out of the box was the quality of plastic and the high level of detail. This is a marked improvement over soft plastic D&D miniatures. The plastic seems sturdy too, and I didn't have any accidental breaks due to the plastic being brittle. On top of that, the spru itself comes with a lot of options for customization. Multiple heads with different expressions, different versions of equipment, several weapon options, and bonus pouches and packs were all included, which got me excited about making the miniature my own. I really liked how I could buy copies of the same kit but customize it to suit different characters. There's even pieces that are "miniature agnostic", able to be used with any model and not just the one that comes in that specific kit. Things like satchels, gravestones, plants, and animals are a nice touch to add to not only your Frameworks models but any of the other miniatures in your collection.
On top of player character models, the Frameworks line will also include monsters, including groups of enemies in a multi-model kit and larger-than-human monsters that come in bigger kits. Another great design choice: the multi-model kits come with a subtle numbering system found on specific pieces. For example, the skeleton box has arrows that stick up out of the ground. Skeleton #1 has one arrow, Skeleton #2 has two arrows, Skeleton #3 has three arrows, and so on. This is going to be a huge boon to dungeon masters keeping track of damage and conditions among a group of enemies.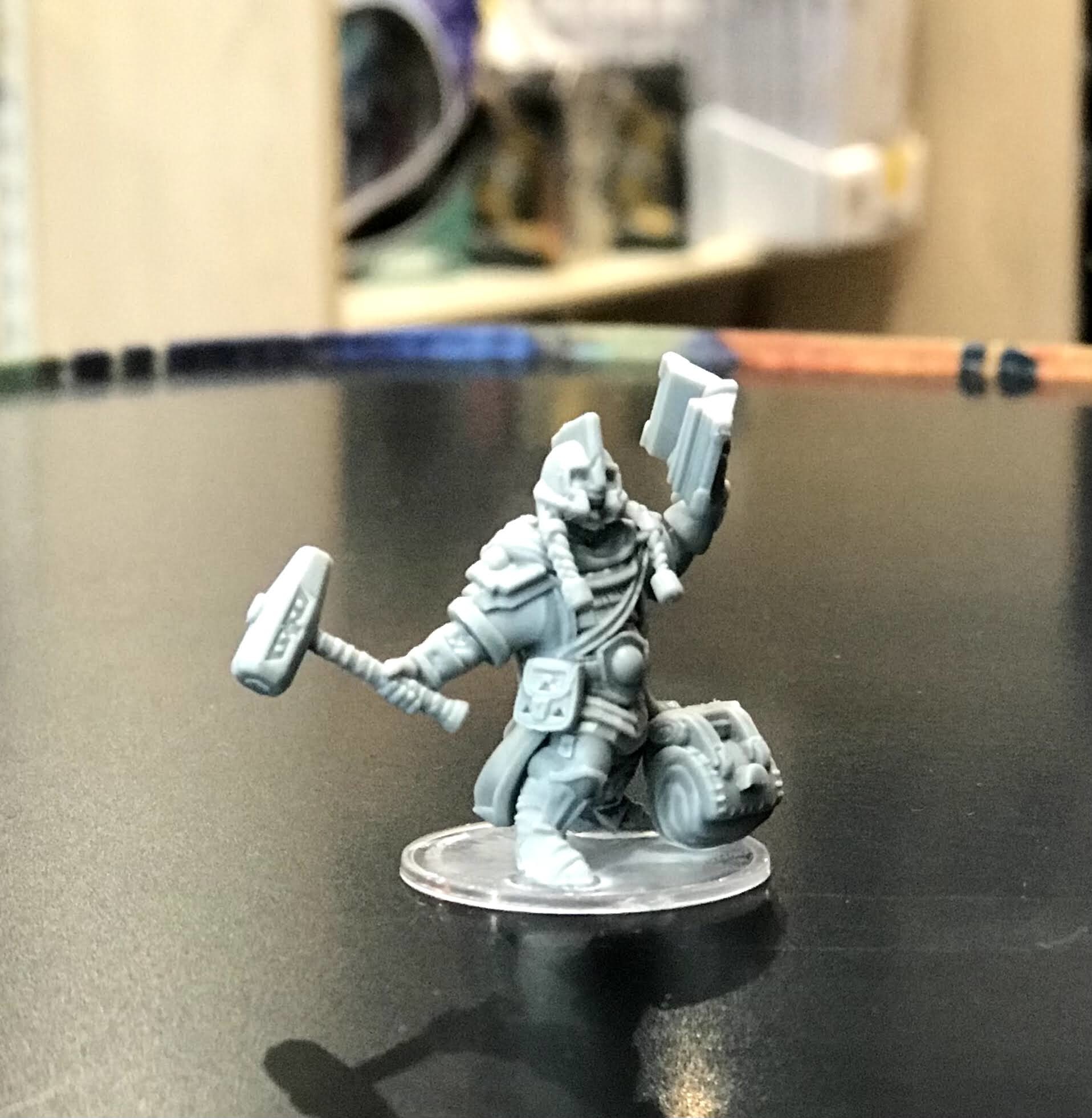 I found the models very easy to assemble. The parts are numbered in assembly order, so you will connect parts 1a to 1b first, then attach 2, then glue 3a to 3b before attaching them to the main model. Super glue will work fine, but I used both Bob Smith Plastic Glue and Army Painter Plastic Glue and they worked extremely well. The plastic glues make a stronger bond by actually melting and fusing the plastic together. I did need to use super glue to get the model to affix to the clear plastic base included in the kit.
Importantly, what's the cost for all these improvements over the soft plastic D&D miniatures? The short answer: as low as about half of what other high-end models cost. The player character models start at $15, while larger monsters will be upwards of $30 and multi-model kits are $50. The impressive Balor miniature, a huge model kit that rivals what Citadel produces, comes in at $99. This is a significant uptick over Nulzur's Magnificent miniatures, which come in at $6 for two humanoid minis, but those come in with a myriad of downsides as well. Low detail, pre-sculpted and not customizable, and bulky or warped appendages all make Nulzur's an affordable but imperfect line of models.
Ultimately, I am really impressed by what Wizkids have produced here. The Frameworks line occupies a fantastic middle ground in terms of price while being in the upper echelon of model quality and design. I love the customization, dynamic poses, and clever use of additional pieces. I am incredibly excited for Frameworks to release before the 2021 Holiday season, and I can't recommend this product enough!