Narrative play, much like a role-playing game, is about experiencing a story and is a great way to deepen the casual miniature gaming experience.
As a hobbyist and game lover, it is extremely satisfying to pull together a miniature army. Reviewing units and rules that you like, picking models that look amazing, building and painting the miniatures is great; all of that culminates into playing your first game. From then on, that front end work is mostly done and you can play as much as you like.
If you are looking for something a little different that is not just a competitive game of Warhammer, we would recommend you try a narrative campaign.
Narrative play, much like a role-playing game, is about experiencing a story through the wins and losses that happen over the course of several games. Over each battle, units become veterans, gaining better or worse stats based on how well they do and the luck of the dice rolls. While they commonly have some sort of campaign manager to decide on setting and scenarios, it can be done simply with the rules for it in the core book.
Warhammer 40,000 has a system for linked-together narrative games called Crusade. Crusade games have the flexibility to introduce some fun settings and rule sets. For example, in January, our armies fought on an ice planet to extract an ancient relic. This manifested in our games through special rules that caused slippery conditions for movement and slowing people down in melted ice after high-temperature attacks. We had several icy collisions wiping soldiers off the board after "sliding" into another unit. The end result is a hilarious and memorable moment!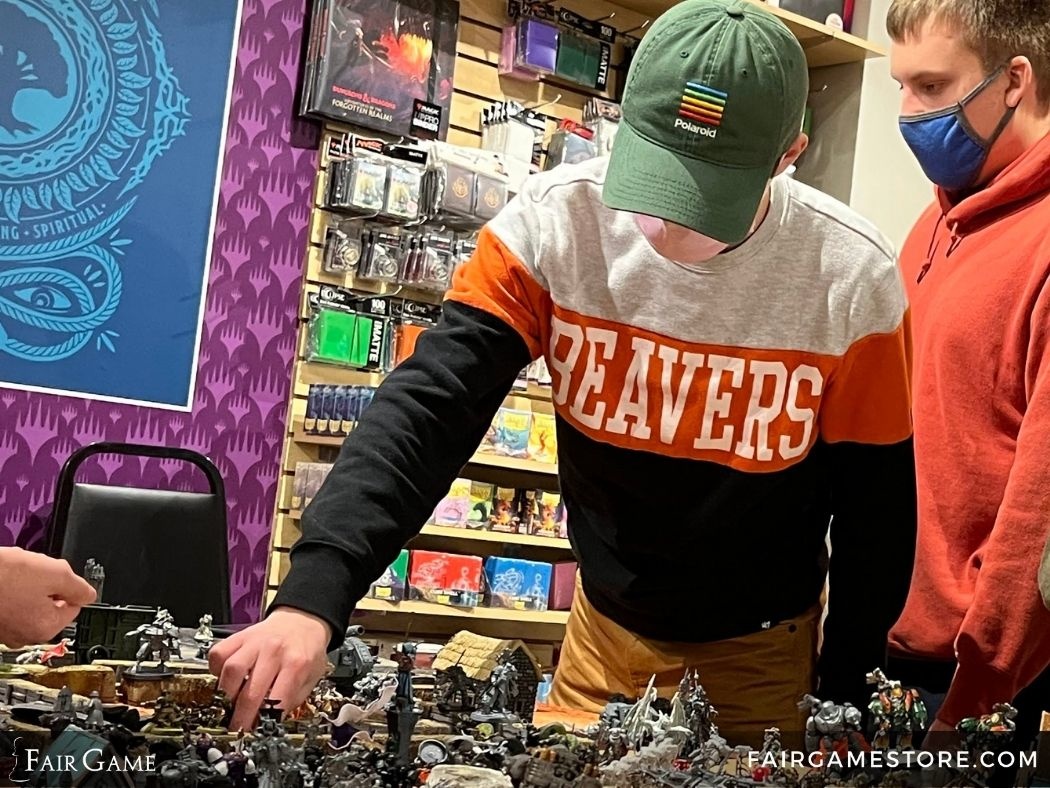 The Crusade League is great for both new and veteran players. There are catch-up mechanics to make sure a person just joining the league is on equal footing. If you prefer, Crusade bonuses are easy to ignore if you already have an army. And, if you are thinking of starting a new army, the Crusade rules have an organic way to scale up from the smallest games to a full-fledged army so you can play while you work on putting together your forces.
If you are interested in giving it a shot, or simply looking for a Warhammer game, come visit Fair Game Downers Grove on Tuesdays! We also play Warhammer on Wednesdays at Fair Game La Grange. Many players coordinate games in advance, especially if they are playing Age of Sigmar or other Games Workshop titles.
Since the narrative arc runs monthly, it makes it extremely easy to jump in and still be reasonably competitive; there aren't months of upgrading units to make them ultra-strong. We've also started adding a Kill Team game on the last day of the month which usually requires a small box.
Join us on the Fair Game 40k Discord and we can answer your questions and get you started!