In Spirit Island, you're working to try and scare off and destroy invaders who are attempting to colonize your island. To do this, you'll need to use your spirit's power cards and get some help from the Dahan, the natives the spirits have allowed to live on the island.
Board games have evolved dramatically over the last several years, with game mechanisms and interesting themes coming together or provide new and creative playing experiences.
With so many different options, it can be a little intimidating to think about where to start when setting out to acquire that next game. If you stop by one of our Fair Game locations, we're always interested in listening to your descriptions of what you're looking for and are happy to provide recommendations based on that feedback. 
But sometimes it's not possible to pop into the store to get recommendations, so we wanted to bring our recommendations to you! 
This will be the first of many quick reviews of some of our staff's favorite games.  Games we are intimately familiar with and can recommend with the highest of conviction.  So, if you fit the "who is this game for" profile, we would recommend you give it a shot!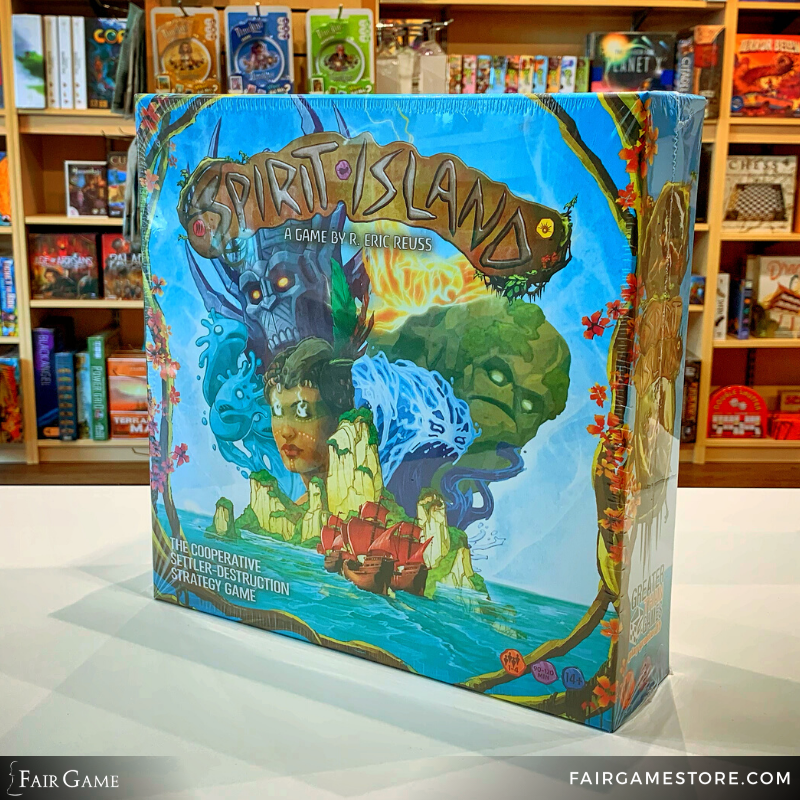 Spirit Island (Greater Than Games) - by Dan Malone
Spirit Island is a cooperative settler destruction strategy game.
That's a mouthful, so let's break that down a bit for easier digestion.
First off, it's cooperative, meaning that all players work together to achieve a common goal.
Settler destruction? Think 'anti-Catan.' Rather than attempting to build something up, your goal is to hold the invaders at bay and eventually drive them away.
Strategy game. Spirit Island takes some planning and foresight to do well, and it is this richness that provides players with so much enjoyment.
Let's set the stage, thematically.  From the back of the box...
"Powerful Spirits have existed on the isolated island for time immemorial. They are both part of the natural world and – at the same time – something beyond nature. Native Islanders, known as the Dahan, have learned how to co-exist with the Spirits, but with a healthy dose of caution and respect. However, now, The island has been "discovered" by invaders from a far-off land. These would be colonists are taking over the land and upsetting the natural balance, destroying the presence of Spirits as they go. As Spirits, you must grow in power and work together to drive the invaders from your island … before it's too late!"
Gameplay
In Spirit Island, you're working to try and scare off and destroy invaders who are attempting to colonize your island. To do this, you'll need to use your spirit's power cards and get some help from the Dahan, the natives the spirits have allowed to live on the island.
The base game comes with eight different characters that you can choose to play, which each of the characters playing very differently. Four of these characters have relatively low complexity and an additional "tutorial" option, removing the card drafting element. One of the elements I like the best about the game is the use of thematic names like "Vital Strength of the Earth," "Shadows Flicker Like Flame'" and "Ocean's Hungry Grasp."
Throughout the game you will draft cards to add to your spirit's abilities and spread your presence, allowing you to interact with different parts of your islands.  You're also able to draft cards that increase the number of cards you can play in one turn or increase your energy/element production. The result of this is a satisfying engine building game that does not sacrifice theme for gameplay mechanisms.
One notable element of Spirit Island is the fact that your victory conditions change throughout the game, depending on your ability to generate fear as spirits.
One additional positive element of Spirit Island is its player-count flexibility. The game does have a solo mode and, because of its asymmetric and cooperative make-up, you're able to play with up to 4 players without too much of an issue. 
Now, I'm fairly new to the world of board games. This game kicked my butt at first – each of the spirits plays so different than the others. But once I was able to get a feel for how the automated enemy functions, I was able to survive later into the game and victory became possible. … With some good planning, of course.
Who will like Spirit Island?
Spirit Island is primarily meant for experienced board gamers.  The game offers a large amount of content and replayability.  The core game comes with a few different scenarios and unique invader types that modify the standard rules.
I HIGHLY recommend this game for 2 players. Each spirit has inherent strengths and weaknesses, forcing spirits to figure out how to leverage actions to the benefit of the island as a whole.
Who will not like Spirit Island?
This game is not for you if you are looking for a quick game. Game duration definitely increases with each additional spirit you add. In addition, because each spirit plays differently, it is difficult for other players to provide input or advice to less experienced players. There is definitely a "new player learning curve" that players need to acknowledge.
Final Thoughts
If you're a fan of highly strategic games that reward players for good planning, this could be a great option for you. I give this a Dan Malone 9.5/10!
Interested in this game? Check out Spirit Island on our website by clicking here.