What happens when you combine Where's Waldo and CSI?
In a sea of bright box covers, the striking black-and-white comic strip box art of MicroMacro stands out. There are two versions: MicroMacro Crime City, which won the Spiel des Jahres award, one of gaming's most prestigious awards, and the follow up, MicroMacro Crime City: Full House. While the former has been wildly popular, we still get lots of questions on the latter. Full House is a standalone game that takes what makes the first title so innovative and builds on it, making it even innovative-er. In short, MicroMacro Crime City: Full House is a blast.
Micro Macro Crime City: Full House is a crime deduction game unlike any other (well, except the first one I guess). The game comes with a large, fold-out map of the city, a magnifying glass, and 16 cases for you to solve. Imagine a Where's Waldo book, but instead of just finding Waldo, you need to find out who killed Waldo and why. You'll do this by backtracking what Waldo did during his day. That's Micro Macro Crime City: Full House in a nutshell.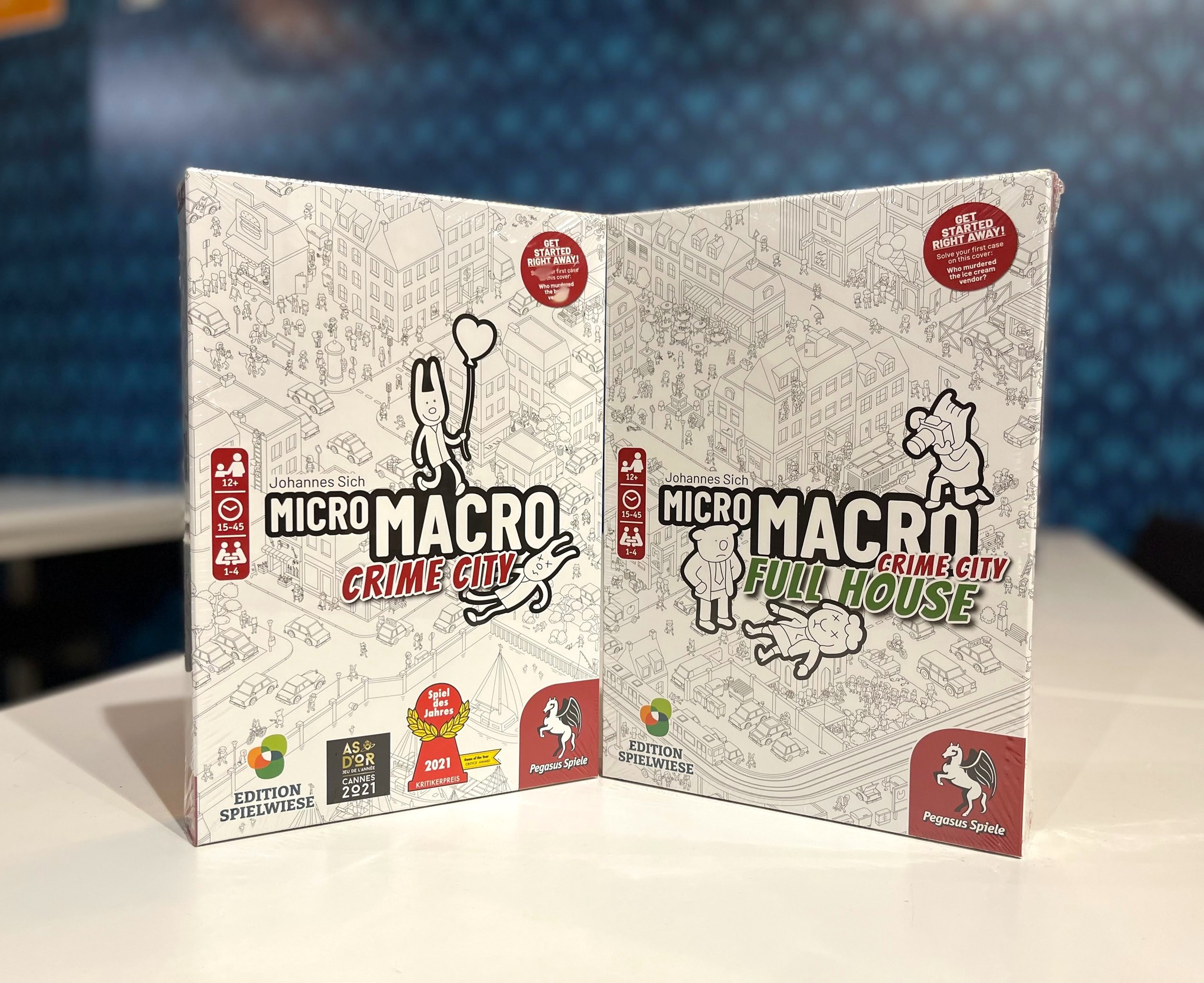 Each case begins with a crime - a murder usually. I do want to point out that all the art in the game is cartoony and, while not necessary family-friendly, it's also not graphic in the slightest. I'd say the game is accessible for kids as young as 12 years old as long as you think they can handle the subject matter. Trust your gut on that one.
Now, as I said, there's been a murder, and it's your job to solve the case. You'll be given a stack of cards, each of which will point you further along the trail of the murderer. Every scenario starts at the crime scene and the card will ask you a question. Perhaps it will be "where was the victim earlier?" or "were there any witnesses?" One of the neat things about Micro Macro is that everyone is shown in the city at various times and states. So once you've found the crime scene, you can then backtrack the victim's day over time.
Perhaps he recently visited the ice cream shop, and from there, you follow his day tracking him along the map to the hot dog stand, and then on to the marina. Eventually, you might find out that he had a run-in with a nefarious person, and you start backtracking that person's day until you see that he bought a knife from a shady seller. This is where, as they say, the plot thickens.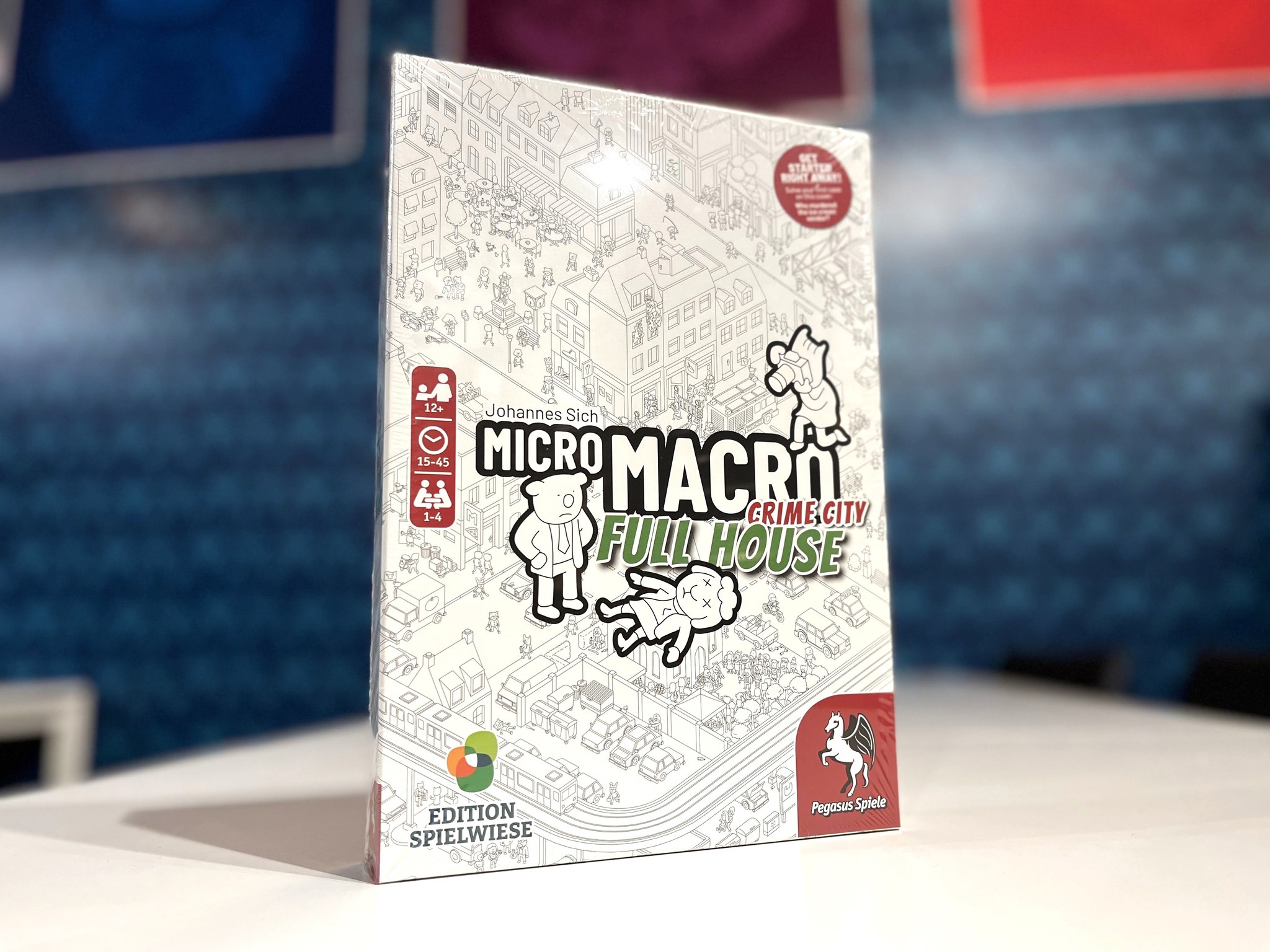 Micro Macro Crime City: Full House is a game of searching the maps and trying to piece together the clues to the puzzle over various times in the day. The nice thing is that each card will give you a clue, and on the flip side, the answers. So even if you get stuck, the cards will keep you moving forward on the case. However, some people also like to play without the cards at all, and create a "hard mode" for themselves. In this mode, they just start at the crime scene and try and figure out the whodunit of the crime without being led there. It's all about how you want to experience the game.
Whether you were a fan of the original game, or just looking to try something new, Micro Macro Crime City: Full House is a fantastic game. My wife and I like to play it at night when the kids have gone to bed. We open a bottle of wine, put on some music, and just relax while playing the game. I love how it's both collaborative and casual. One of us will search one area of the map for someone, while the other searches somewhere else. It's a great way to unplug, have some fun, and stretch those mental muscles. Give it a try!